Bali is a place that is filled with culture, heritage and spirituality. It is an island that is packed with jaw-dropping landscapes, magnificent architecture and amazing art. There is a reason it is known as the 'Island of the Gods', and its directional temples (a must for anyone visiting the island), proves this. More recently, Bali has become known as the island of 'Eat Pray Love', and since then travellers have flocked to here to find their own sense of spirituality. This includes yoga, and there are so many fantastic Bali yoga retreats, some of which often bring in famous teachers from around the world.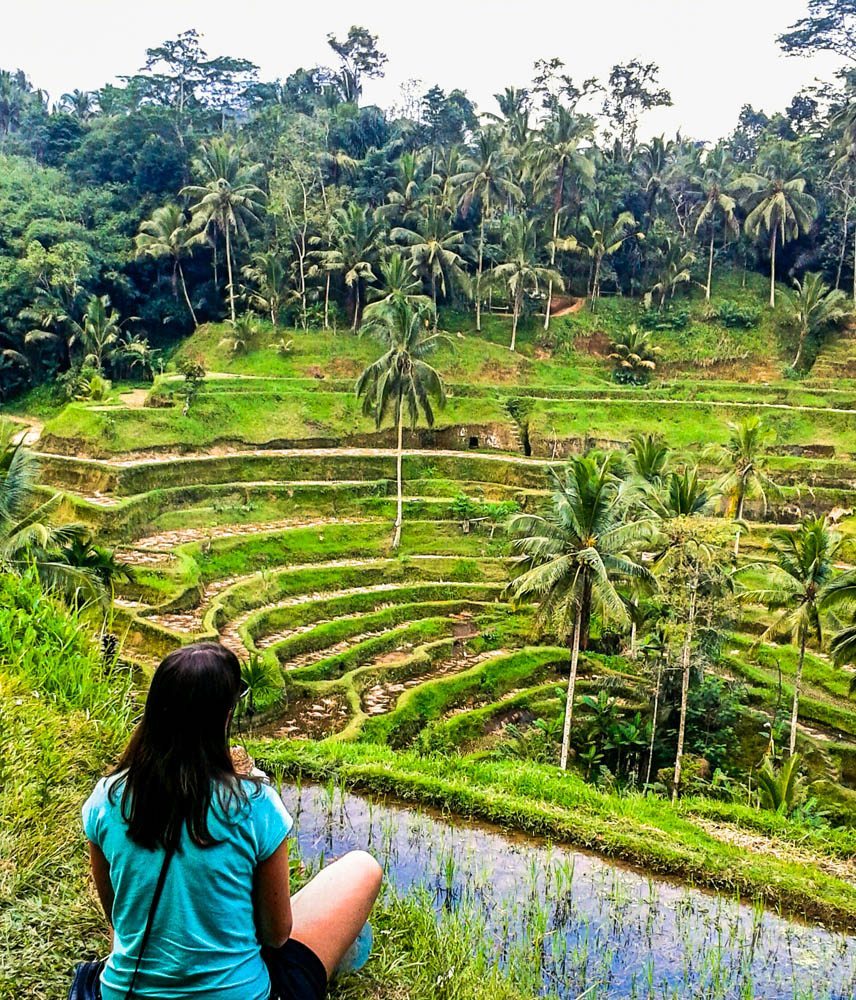 Bali is one of the best places in the world to enjoy a yoga retreat, as it has the ancient Hindu history, the spirituality, the fantastic scenery, many other yogis and like minded people  and, of course, great weather. On top of that, the food is excellent, the people are friendly and the coffee is some of the best you will find anywhere else in the world!
Pin Me 🙂
It can sometimes be hard to know if a yoga retreat is good or not. Luckily I found a really good site – www.bookyogaretreats.com where you can find all kinds of yoga retreats, learn more about the styles taught and instructors and, most importantly, check real reviews, testimonials and book your place. Here are my picks for the 5 best Bali yoga retreats. 
Here's my pick of the 5 Best Bali Yoga Retreats
This award-winning eco-conscious centre is one of the very best Bali yoga retreats. It's set in the jungle right along the Ayong River, offering the perfect environment for loosing yourself and getting in touch with nature. Five Elements is a healing and wellness centre that specialises in personal retreats to suit your exact needs. It is not cheap, but it is pure bliss, right down to its heated 'Watsu' therapy pool, ceremonies and luxurious riverside suites. They offer retreats that last anywhere from 4 to 22 days and include daily or private yoga classes, meditation sessions, a water healing session and 3 meals a day, amongst other things. Click here to read reviews and to book!
Although Bali Firefly has been around for many years, it was transformed into the bliss that it is today by Penny Adams and Wayne Furlong and is now one of the most popular Bali yoga retreats. It attracts people from all over the world, and is especially popular amongst honeymoon couples. But don't let this scare you from coming here. It's a magical place nestled in the rice paddies with great views of the sacred Gunung Agung in the distance. It is the best choice for anyone looking for an affordable Bali yoga retreat that it is also great value for money. They offer an 8-day retreat that includes daily yoga classes, organic vegetarian meals and a few excursions, as well as accommodations in a villa, in which there are 3 options to choose from. They offer a variety of different styles of yoga, including Hatha, Vinyasa and Yin, all of which are great for any level. Click here to read reviews and to book!
Tis eco-friendly place is one of the top Bali yoga retreats set right along the beach. The turtle shaped, 100% bamboo made centre has an open-air yoga studio upstairs and a chill space downstairs for relaxing and meeting fellow yogis. Power of Now Oasis was built as a space where people could share yoga, meditation and holistic treatments. Plus, it's partially a not-for-profit space, with part of the income going to the kids at Jodie O'Shea Orphanage. They have actually set it up so that one day the kids from the orphanage will actually own 50% of it. If that's not reason enough to choose this amongst all other Bali yoga retreats, then the excellent yoga teachers should, most of which hail from India. They offer 7 day retreats; one of which includes meditation and the other that combines yoga, surfing and SUP. Click here to read the reviews and to book!
This is the only traditional Balinese yoga retreat in Bali, with its instructors being locals that studied under famous local master Perguruan Seruling Dewata. The retreat offered here includes yoga, chakra meditation, Tali Rasa (Balinese Thai Chi) and Pencak Silat (a form of Martial Arts). It is located in a quiet part of the island, surrounded by rice paddies and swaying palm trees, and is truly an authentic Balinese experience. Yoga retreats here last anywhere from 3 to 8 days and include all of the activities above, as well as accommodations, 3 healthy meals a day and a daily cultural activity in the nearby village. Check out this Bali yoga retreat if you want the authentic Balinese experience! Click here to read reviews and to book!  


Yoga Bliss was started in 2016 by a group of yoga teachers and island locals that wanted to create a space where people could not only practice yoga, but also learn about spirituality. It is located on the small island of Nusa Lembongan, which is just a 30 minute boat ride from Bali, and it's the only locally owned retreat on the island. One of the great things about Yoga Bliss is that it helps to support the local community by investing 6% of its income to local projects for the people and the environment. This Bali yoga retreat is a little bit different than the rest because they combine it with surfing. So not only do you get to enjoy unlimited yoga classes, but you also get 2 surfing lessons! Plus, their 7-day retreat also includes accommodation, a healthy breakfast, 2 Balinese massages and return transfer from Bali. This is one of the best value Bali yoga retreats. Click here to see reviews and to book!
Read More: Ultimate Guide to Yoga in Ubud
Check out my other posts about Bali here
Yoga teacher training courses in Bali
Reasons to take a retreat holiday for your next trip
I'm lucky to be able to choose to spend alot of time in tropical, spiritual places with great yoga – check out my pick of the best yoga retreats and yoga teacher training courses in Goa and the best yoga retreats in Koh Phangan, Thailand
Have you been on a amazing yoga retreat in Bali? I'd love to hear about your experiences so please leave a comment below 
By the way, there are affiliate links in this post. So if you find my recommendations for Bali yoga retreats useful and decide to book then I can earn a small commission at no extra cost for you which helps to keep me traveling and this site running so thanks for your support! 🙂